Happy Valentine's Day to you! Hope today is filled with smiles, joy and love! Regardless of your relationship status, today is a day to celebrate the most beautiful thing God has given us, love. Have a beautifully wonderful day!
Blessings and Love,
P.S.
My lovely friend over at (Life is too Short Not to) Wear Red Shoes is hosting a wonderful giveaway today that I just had to share with you! There will be 14 winners (yep, you heard right), so pop on over there and check it out!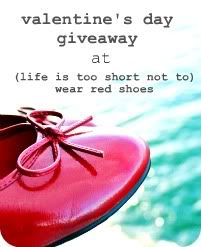 And while you're out looking around, this is a
super cute store
that has the sweetest style! I've mentioned it before, but Tina is offering a special sale right now to all of you bloggers, so you don't want to miss it!
http://www.luphia.co.uk/ is offering 25% off everything with the discount code "blog", to qualify just enter at the shopping cart page.
Happy Springtime Shopping! :)