I know I sound like an article out of the latest InStyle or something, but with the beautiful spring and summer weather around the corner, it's the topic on many of our minds.
Here's a few of my Springtime essentials!
I don't know about you, but there's something about a fun pink lip that says 'spring' like no other. If you're looking for a super easy beauty update, check this Revlon lip stain out. Passion is my favorite shade, and it seems to not only give a pop of sophisticated, fun color, but also outlasts most of my other lipcolors.
Straw totes are so chic, and seem to be everywhere this time of year. Whether you like your look to fall in the sweeter, girly side, such as this pink bow adorned bag, or channel a more tailored nautical look, this will be sure to make your shopping errands and beach time more fun!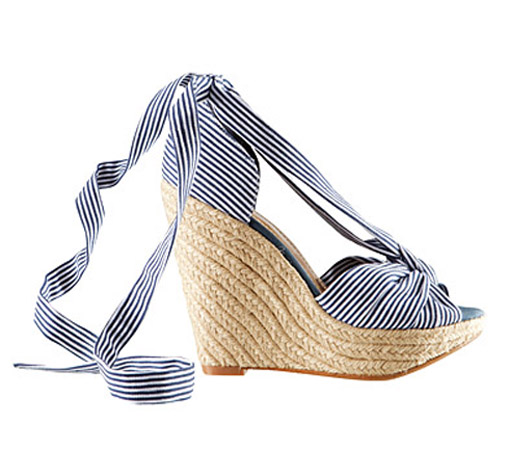 I always look forward to the season of sweet espadrille shoes! It's one of my favorite trends, and can look so feminine and flattering. Pick up a pair in a bright color to punch up a classic black or white outfit, or choose a patterned set to add some contrast. To give your legs some added visual length, find a pair in a nude or camel color!
Right after winter, there's that awkward stage when spring is just arriving, and it's time to break out the shorts, dresses and skirts; however, everyone (or maybe just me) can still be mistaken for a Cullen.
So, I enlist the help of some glow-enhancers, until I can get a few moments to sunbathe. (even after, they help to maintain the bronze babe look!)
For smooth skin and a gorgeous, streak-free glow, look no further than the Jergens Natural Glow. It creates an even, believable color, so everyone will think you've just returned from a week on the beach!
To warm up your face, I love to use the Hoola bronzer by Benefit. This gives a soft, sunkissed look, and is not outrageously tan or sparkly.
What spring or summer essential list would be complete without the mention of the sundress. I could wear one of these everyday if I had to! There's a ton of styles, colors, lengths, patterns and ideas that you can find and create with these. Experiment with accessories, unexpected combinations and the other items on this list to come up with your perfect warm weather look!
Do you have any spring favorites?
Blessings,
Candice